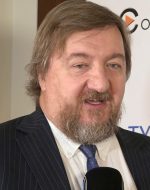 Alexander Yakubchuk
Vice-President Exploration / Exploration Director
Azarga Metals Corporation / Orsu Metals Corporation
Over 30 years of operational and executive experience in the Former Soviet Union (FSU), including Russia, Kazakhstan, Kyrgyzstan, Uzbekistan, Australia, Mongolia, China, Canada, and several other European countries.
Dr. Yakubchuk has previously worked with and consulted companies such as BHP-Billiton, Norilsk Nickel, Goldcorp, Rio Tinto, World Bank, and Inco and previously lectured as an Associate Professor at Lomonosov Moscow State University for 5 years.
07.10.2020 14:00 - Technical session 1 | Main Hall
Unkur Cu-Ag project in Udokan mining district, Zabaikalie, Russia
Azarga Metals owns 100% of the Unkur Copper-Silver Project in the Zabaikalsky Region, Russia. On completion of 2016-2018 exploration program, the Company estimated an Inferred Resource of 62 million tonnes at 0.53% Cu and 38.6g/t Ag. In 2019-2020, Azarga has doubled the strike length of mineralized envelope to a total of 6.5 km, which remains open in both directions along strike and down-dip. While the new resource estimate study is ongoing, the Company received results of a metallurgy test showing recoveries for sulphide material up to 89.1% Cu and 82.7% Ag into commercially attractive ~30% Cu and ~2,000 g/t Ag concentrate. Oxide material yielded recoveries up to 96.4% Cu with acid leach and 96.7% Ag recoveries with cyanide leach.
Orsu Metals – from exploration to pilot production in 3 years
Since 2017, Orsu Metals Corporation owns 90% of Sergeevskoe gold project in the Mogocha District, Zabaikal'skiy Region, Russian Federation. In December 2019, the company received a mineral resource approval from Russian GKZ. On January 9, 2020, Orsu announced a pit-constrained Inferred Mineral Resource of 30.42 million tons, grading 1.45 g/t Au and containing 1.417 Moz Au at a 0.5 g/t Au cut-off grade (US$1,450/oz Au). Despite global COVID-19 outbreak, the company managed to receive a permit for pilot mining for a total of 1.05 million tonnes of mineralized material during 3 years. Since May 2020, Orsu (in partnership with AO Zapadnaya) is conducting a grade control drilling. Bulk test processing of mineralized material from Sergeevskoe started in September 2020.