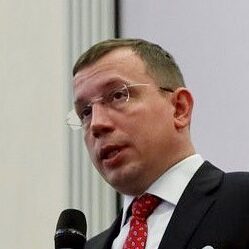 Godunov Nikolay
Sales Director – Russia & CIS
VIST Zyfra Group
Nikolay graduated from the Moscow Automobile and Road Construction Institute, having specialized in heavy machines. Nikolay also holds a Management degree of Plekhanov University of Economics and MBA degree from the Moscow International Higher Business School (MIRBIS).
In 2004, Nikolay Godunov joined the Mincom, where he held various business development roles for 7 years. In 2011, after the acquisition of Mincom by the Swiss-Swedish giant ABB, Nikolay joined ABB as Vice President of Sales Russia & CIS of Mincom. On January 2012, Nikolay Godunov was appointed to the position Vice President Natural Resources, Ventyx an ABB Company. In this position, Nikolay was involved in the pomotion of ABB's expertise and solutions to companies in the mining sector of Eurasia. Under the leadership of Nikolay Godunov, the company strengthened its positions in Russia, Asia and north Africa.
In September 2019, Nikolay Godunov has joined Zyfra, a developer of solutions for the digitalization of industry. In this position, Nikolay develops and implements a sales strategy and partially a product strategy for the Russian market and the CIS countries, as well as builds and develops a sales team for digitalization solutions, including robotic solutions for mining. Nikolay has over 20 years of experience in various areas of the IT business, from software development, consulting, project management, sales and leadership.
08.10.2020 11:00 - Mining Goes Digital – Session 2 | Main Hall
Autonomous transport - challenges and benefits.
Key features of a digital platform for a mining enterprise; main directions of mathematical models and digital twins; digital advisors for technological processes; and other directions for the development of Industry 4.0 in the mining industry.