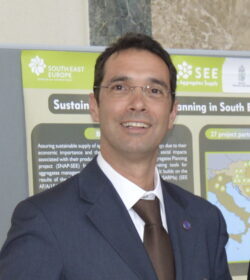 Vitor Correia
Secretary-General
International Raw Materials Observatory
Vitor Correia is a geologist with over 25 years of experience in strategic management, innovation and organizational effectiveness for institutions and projects in the extractive sector. He founded and managed several geoscience companies with operations in Europe, Africa and South America, and for the past five years he has worked as an independent consultant on projects in the European Union, the World Bank and the African Development Bank, having led development teams for national sectoral strategies (mineral raw materials). He is a member of the United Nations Resource Management Expert Group (UNECE; since 2014) and expert on mineral resources of the European Economic and Social Committee (since 2020). He is Secretary-General of the International Observatory of Raw Materials, based in Brussels, and former president of the European Federation of Geologists.
07.10.2020 16:00 - Technical session 3 | Main Hall
Robominers: changing the mining groundrules.
Converging technologies in robotics, miniaturisation, and cost-efficient drilling are already being used by European researchers to create a robot-miner prototype for small and difficult to access mineral deposits (see https://robominers.eu/). This will certainly trigger more research and innovation in scalability, resilience, reconfigurability, collective behaviour and operation of the robot(s) in harsh environments, alongside ore metallurgy and processing close-loop systems. The combination of these technologies and the robotisation of underground mining enables the creation of invisible mines. Invisible mines have the potential to reduce the environmental impacts of mines and their footprint while increasing the social acceptance of mining, so providing a promising new approach to challenges that currently undermine the activity in many countries.