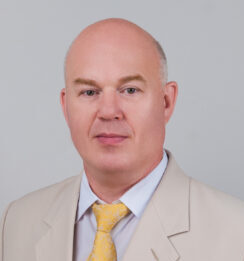 Vadim Petrov
Vice-rector, Jury Member, MineMovie Film Festival
NUST "MISiS"
Date and place of birth: August 16, 1965, Moscow Region, Russia. Born into a family of a mining engineer, Vadim spent his youth and graduated from secondary school in 1982 in the city of miners Inta, Republic of Komi, Russia.
Education:
Graduated cum laude from the Moscow Mining Institute with a specialty in electrification and automation of mining (1987);
Postgraduate studentship ended with getting a Candidate of Sciences degree in engineering after successful defence of a dissertation on the theme: Automatic Fan Drive Control for Underground Coal Combustion (1987–1990);
Was awarded a Doctor of Science degree in engineering after successful defence of a dissertation on the theme: Mathematical Modeling of Electromechanical Equipment of Mining Machines Based on Identification of Dynamic Characteristics (2004).
Research interests: mathematical modelling of electromechanical equipment for mining machines; higher education in mining.
Research & professional development:
Vice-rector (2004) of the Moscow State Mining University, Vice Chairman of the Board for Education in Mining in the Association of the Russian Federation Universities;
Vice-rector (2014) of the National University of Science and Technology–MISIS incorporating the Moscow State Mining University;
Appointed Chairman of the Federal Educational Training Association in Higher Education in Applied Geology, Mining, Oil & Gas, and Geodesy, incorporating more than 100 universities in Russia, Order of the Ministry and Education and Science of the Russian Federation.
08.10.2020 09:30 - Associated event by MISiS and Siberian Federal University | Glinka Hall
New training standards for mining engineers - new opportunities.
The training of mining engineers at the country's universities is carried out on the basis of federal-state standards or on the basis of university standards. The enacted federal standards provide universities with greater academic freedom to ensure customization of educational programs to the needs of the customer.
The implemented standards make it possible to implement project training for specialists in a wide range of specializations for specific jobs.
On the other hand, the state does not reduce the requirements for the part of the mandatory formation of a number of competencies of a future mining engineer, for example, competence in the field of technological safety. Given that the content of educational programs is within the competence of the university, new solutions are needed to ensure an acceptable quality of training for a mining engineer in this area.
The balance of interests of business, government and university opportunities is a traditional task that the mining community needs to solve.