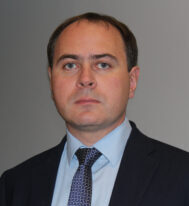 Sergey Nikishichev
Director
IMC Montan
FIMMM Competent person (UK), expert OERN (Russia), expert EUES (EurAsian Union of Experts on Subsoil), Member of the Academy of Mining Sciences, PhD (Economics), IMC Montan
Sergey Nikishichev is an experienced Project Manager and a mining economist with more than 30-year experience in mining and experience in mining consulting since 2006. He held various positions in mining companies, including management positions, e.g. Vice-president in Economics in Sokolovskaya Holding Company in Kuzbass, engaged in surface and underground coal mining, processing, construction and other related businesses. Sergey is an experienced specialist in the field of investment, business economics, business planning, business and organizational systems management, and mine production structures, including infrastructure objects. At present, Sergey is in charge of IMC Montan, cooperation development and management of projects implemented for the mining sector companies and financial structures.
07.10.2020 09:30 - Plenary session 1 | Main Hall
If your plans are to develop, work in a civilized way
Under the current challenging situation, a subsoil user team should understand their company goals and objectives, recognize that reserve mining is, first of all, a business that must be successful. An independent engineering and technical audit is necessary for all, be it modern design or work with investors / banks. Today the role of consultants capable of understanding the deposits' and operations' specifics, is ever more crucial. With methods of communications changed, communication of correct information is a basic guarantee of successful development. Data formation, cooperation with consultants should be among the competencies of qualified specialists who not only accept the work but also can communicate understanding that this is work for all parties to the process. Untrue data bear risks not only for an auditor who assumed the risks but also for the project, for the truth quickly becomes evident. The principles of the lowest fee and pressure on an auditor have long been the thing of the past, especially in times of personnel shortage problems. Large corporations believing that all working for them "are under obligations" by definition, find themselves in a situation, when their circle of counterparties becomes so small that this harms their business goals. Frauds sometimes taking place in the area of subsoil use may, in principle, entangle project shutdown and also cause wreck of the business in the short term.