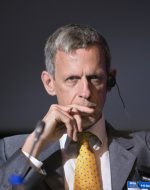 David Pearce
General Director
SRK Consulting (Russia)
David Pearce is the General Director of SRK Consulting (Russia) Ltd. and Principal Mining Engineer with more than 30 years' experience in open-pit mining operations.
He spent 11 years working on world-class mining operations, both coal and hard-rock, in various roles. With SRK, David has led technical studies; due diligence reviews for acquisitions, stock exchange listings and project finance, including the listing reports for ERG (ENRC) (Kazakhstan) and Vedanta (India); and project optimisation studies.
As well as being a member of SRK's global group evaluating the application of digital solutions, David is also SRK's team leader for the development of haulage efficiency services, working with partners to develop specialised software to measure the efficiency of haulage operations.