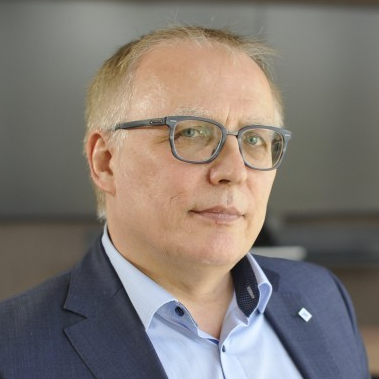 Vladimir Trapezin
Director for Automation and Information Transformation of Production
Nornickel
Graduated from Karaganda State Technical University and the International Academy of Business (Almaty). Received an MBA from the Russian Academy of National Economy and Public Administration under the President of the Russian Federation (Moscow).
Since 1985 he worked at the facilities of Baikonur. From 1989 to 2004, at large industrial enterprises, he worked his way up from a foreman to head of production automation, informatization and communications. In 2004, he was appointed head of the Department of Production Automation, Informatization and Communication of Kazchrome Transnational Company JSC. Since 2012, director of the IT-BTS branch of Business and Technology Services LLP, a member of the Eurasian Resources Group (ERG) and providing a number of services to the group's enterprises, including IT support and implementation of a large-scale business transformation program for the group of companies.
In 2014, he was appointed Deputy Head of the Industrial Assets Department of  Norilsk Nickel, and is the Technical Director of the company's flagship program to improve the operational efficiency of production, Technological Breakthrough, whose main goal is to build a safe, efficient digital enterprise. Since 2019, he has been holding the position of Director for Automation and Information Transformation of Production at  Norilsk Nickel.
07.10.2020 09:30 - Plenary session 1 | Main Hall
The "Technological Breakthrough" program: transition from basic automation to digital control of production processes
Since 2015, Norilsk Nickel has been implementing the Technological Breakthrough program. The program is aimed at increasing operational efficiency and transferring the company's production processes to a new target state, in which an effective system of multivariate planning and automated operational control will be built.
The changes cover all divisions of the company that are part of the operating block, and all production redistributions - from ore mining to metal production.
As a result of the implementation of the program, the operating model is changing, IT systems and technologies of Industry 4.0 are being introduced. The company gains a technological and operational advantage, increases the safety of working conditions, creates an opportunity for the development of new competencies for employees at all levels. Work is underway to create a deserted, intelligent digital mine. The main goal of the program is to build a secure, efficient digital enterprise.
08.10.2020 11:00 - Mining Goes Digital – Session 2 | Main Hall
Implementation of digital tools to improve production operational efficiency at Nornickel