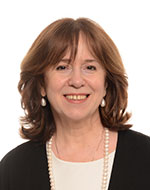 Natalya Poppel
Head of CSR and Brand department
Severstal
Natalya Poppel graduated from the Moscow Aviation Institute, studied at the MGIMO School of Business, Bilston Community College (UK), and the Diplomatic Academy of the Russian Ministry of Foreign Affairs.
She has many years of experience in the field of public relations in commercial and non-commercial spheres, state cultural and educational organizations.
At Severstal since 2008, from June 2009 she has been in charge of CSR, planning, implementing and coordinating corporate and regional programs for social and charitable investments, social partnerships and sustainable development.
With her guidance, the Company received a number of prestigious awards: "Corporate Philanthropy Leaders" by the Russian business of the "Donors Forum", Vedomosti and PwC; "PEOPLE INVESTOR" of the Russian Managers Association; "Leaders of Russian Business" of Russian Union of Industrialists and Entrepreneurs.
In 2015-2018 Natalia topped and was one of the leaders in ratings of Russian CSR managers and in 2019 she was named " Best CSR Director" according to the version of the award in management "TOP-1000 Russian Managers" held by Russian Managers Association and Publishing House Kommersant.