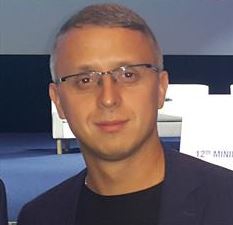 Evgenii Kurenkin
Head of division
Nornickel
In 2005 Evgenii graduated from the Mining Faculty of the Irkutsk State Technical University with a degree in Electric drive and automation of industrial processes.
Later he worked in various positions at PJSC "MMC" Norilsk Nickel "as a specialist in the automation of production for the extraction and processing of minerals and metallurgical production.
Among the implemented projects are the introduction of production dispatching systems, positioning and radio communication in underground mine workings, automation of the operation of technological equipment (lifting and ventilation installations, drainage systems, electric locomotive haulage), production safety systems (gas monitoring, automated fire extinguishing systems).
08.10.2020 11:00 - Mining Goes Digital – Session 2 | Main Hall
"Technological breakthrough" - the program of Norilsk Nickel production digital transformation 
Since 2015, Norilsk Nickel has been implementing the Technological Breakthrough program. The program is aimed at increasing operational efficiency and transferring the company's production to a new state, in which an effective system of multivariate planning and automated operational control will be implemented.
The changes cover all divisions of the company that are part of the operating block, and all production redistributions - from ore mining to metal production.
As a result of the implementation of the program, the operating model is changing, IT systems and technologies of Industry 4.0 are being introduced. The company gains a technological and operational advantage, increases the safety of working conditions, creates an opportunity for the development of new competencies for employees at all levels. The work is underway to create a man-free, intelligent digital mine. The main goal of the program is to build a secure, efficient digital enterprise.
08.10.2020 16:00 - MineDigital competition | Glinka Hall