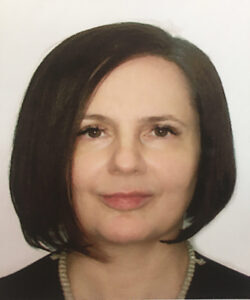 Olga Izbash
Director
Stewart Geochemical and Assay
Olga is Head of Stewart Geochemical and Assay (Moscow) from the moment of its foundation in November 2006. At present under her management a new state of the art laboratory facility with 100 000 samples per months capacity is being constructed.
Before SGA she was managing an analytical service department of Moscow Special Alloys Processing Plant for 10 years. She implemented the company's accreditation project on LMBA which received the status Good Delivery.
Olga graduated from D. I. Mendeleev Institute of Chemical Technology in Moscow, did her postgraduate studies in Moscow Institute of Steel and Alloys and defended her master's dissertation on Analytical Chemistry in State Research and Design Institute of the Rare Metal Industry (GIREDMET).
In 2001 Ms Izbash had a presidential management training and further work training in Alfred Knight (UK).
07.10.2020 14:00 - Technical session 2 | Glinka Hall
Mobile sample preparation units - a turnkey solution for the mining industry
The development of the mining industry over the past decade has led to an increased demand for modern analytical support of prospecting and exploration operations the distinctive feature of which is their location in the places with poor or absent infrastructure, as well as their remoteness from large analytical and research centers. To meet this challenge ALS, which includes the Stewart Geochemical and Assay LLC, has been successfully implementing outsourcing services around the world,  that allows a geological/mining company to reduce costs, to shorten significantly turnaround time and to focus on the core business. For example, the delivery of mobile sample preparation units to remote regions significantly reduces transport costs, shortens the time of work, and in some cases is the only possible solution for project execution. The supply of a mine laboratory and the outsourcing management of its operations leads to a reduction in both capital and operating costs; significantly improves the quality of work; analysis results are independent and do not require validation.
The laboratory outsourcing system is based on the Hub@Spoke integrated model of the geochemical laboratory network. This model consists in the setting up of a central laboratory and a network of satellite laboratories, as well as regional mine laboratories. In this case the central division (Hub) is a full-cycle laboratory and provides a wide range of services for the analysis of precious, major, rock-forming and other elements. The satellite and mine laboratories can be designed both for sample preparation and for performing some cost-effective types of analysis (or those required for a mine), while the most complex types of analyzes are performed in the central laboratory.
Owing to the modular principle this outsourcing system is highly flexible and allows designing any complete set of sample preparation and/or analysis units, depending on the analytical purpose and required performance, taking into account the needs of the Customer as much as possible.